Top 5 Home Renovation Trends in Druid Hills and Atlanta, GA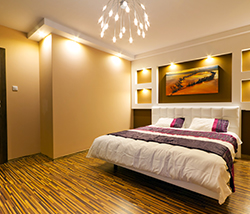 When it comes to home renovation and design, trends are in constant flux. What's in today may not be desirable tomorrow. Since these projects do require resources in time and money, it is important to ensure that you know all your options for the best design choices. Below are the top 5 home renovation trends so far this year.
Structure Open living spaces still rule, but homeowners also want to balance these with small additions that increase more private areas. For example, an open great room can receive new life by adding a small reading nook or a private loft.
Open concept kitchen Open concept kitchens are basically kitchens designed to be a part of the open living area. They typically feature an area that can function as space for the kitchen prep, but that is also useful for storage and dining as a way to flow into the rest of the living area.
Quartz countertops Gone are the days when granite ruled. These days, it's all about quartz for both kitchen and bathroom countertops. Quartz is an attractive and durable material, much like granite, but is much easier to maintain since it is less porous than granite tends to be.
Open Entry Shower Doors Say farewell to mildewy shower curtains or glass doors full of soap scum. Open entry is the most sought after solution for new showers. Removing the doors makes the entire space seem larger and more inviting. As an additional benefit, these types of showers are much easier to maintain and are more sanitary.
Two-tiered Kitchen Island If you are looking for a good way to add both counter space to your kitchen and provide an eating space, a two-tiered kitchen island is the way to go. It can also be designed to provide additional storage space, making it like a furniture piece in some ways. As an added bonus, this type of island creates a good transition from the kitchen space to the rest of the living area.
Want to learn more about our design-build approach to home renovations and why it is the most efficient and valuable choice for you? Whether you are looking to explore all your home improvement options, or you are ready to enter the design phase, we are here to help. Our team has the experience in home construction to ensure your home renovation is a success. Give us a call today at 404.734.7343 to see why we are the premier home contractor in Georgia's entire Atlanta metro area, including Druid Hills.