Remodeling Your Basement Without Going Broke in Marietta and Vinings, GA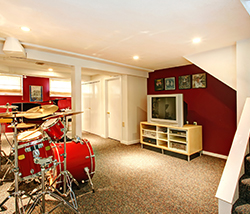 Does your home have an unfinished basement? Most new homes actually do have a basement that is rough, making this one of the most sought after home remodeling projects. A basement remodel is a great way to add extra living space without the costs of a home expansion or room addition.
Many homeowners balk at the idea of a costly home improvement project. That is why using a design-build contractor can save you both time and money. This is the simplest way to achieve a stylish and livable space without the headache of bidding; plus there is a benefit of the home's resale value.
Before you begin,ask yourself what the primary use for the space will be. Will it be a storage/laundry space, or do you envision a rec room or media room? These are important questions to consider because they will determine the features you need to look into to maximize efficiency and practicality. For example, flooring options will differ if the area will serve as a utility or storage space rather than a family game room.
Some cost-saving options to consider are:
Go for an artsy vibe by painting the concrete floor instead of tiling it. You can add area rugs to create ambience and warmth.

Evaluate whether you really need insulation given that basements are typically the most insulated areas of a home due to thick masonry walls.

While a finished ceiling is obviously desirable, and if budget is an issue, you may consider a drop down ceiling instead of drywall.
Are you ready to begin thinking about your basement remodel? Whether you need to brainstorm to see what your needs are, or you are ready to explore all your options, we are here to help. Our team has the experience to ensure your home remodeling project is stress-free and flows smoothly. With the option of design-build convenience, you are sure to enjoy the process as much as the outcome. Give us a call today at 404.734.7343 to see why we are one of the premier contractors in Marietta and Vinings, as well as Georgia's entire Atlanta metro area.