Need a Home Modification Contractor for Your Home in Roswell, Dunwoody, or Sandy Springs, GA? Ponce Design Build is the Company to Turn To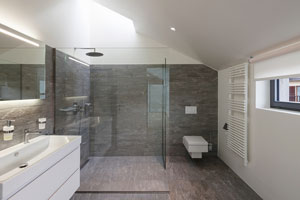 When you need a home modification contractor who can make your house in Roswell, Dunwoody, or Sandy Springs, Georgia, more accessible, turn to Ponce Design Build. We're one of the region's most reputable home remodeling companies, and we specialize in renovating homes to be easily maneuverable for seniors or those with disabilities.
We can make adjustments, both large and small, that will transform your house in Roswell, Dunwoody, or Sandy Springs, GA, into a comfortable space for every member of the family. Some of the changes we can complete in your home include:
Widening hallways and doorways
Building walk-in showers
Installing wheelchair ramps
Adding grab bars to walls
Making countertops lower or multi-tiered
Building pull-out shelving
And more
Not only will every space in your home, from the driveway to the master bedroom, be more comfortable and accessible – our work is also absolutely gorgeous. We're more than just a home modification contractor; we're a design-build firm, meaning we can handle every aspect of your home modification. We'll help design a plan to make an area more accessible, and then we'll bring it to life in your home. In addition to all the features we can add or change to make your house more accessible, we can remove or build walls, replace flooring, move plumbing and electric, finish the basement, upgrade appliances, replace fixtures, lay tiling, and so much more. You'll receive everything you want and more from your renovation when you choose Ponce Design Build over another home modification contractor.
To learn more about Ponce Design Build and why we're the company to turn to when you need a home modification contractor for a project at your home in the Roswell, Dunwoody, or Sandy Springs, GA area, please contact us today.