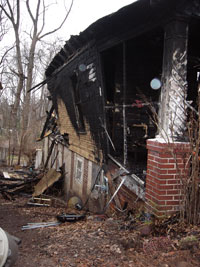 When it comes to fire damage restoration services in the Atlanta area, Ponce Design Build has the in-depth knowledge in house renovations and building architecture to ensure homes are not only aesthetically restored, but also structurally sound for inhabitants. Fires can cause structural damage that can't simply be covered up with some new drywall and fresh paint. Additionally, different types of fires also affect home in different ways. For example, a kitchen fire caused by oil or grease requires different cleaning methods and treatment than one that originates from a bedroom electrical outlet, and this also plays a significant role in deciding which materials can be restored and which need to be replaced. That is why it's crucial that you hire experienced fire restoration experts to renovate the damaged parts of your home after a blaze. , a design / build firm, not only has extensive experience with fire restoration, but water damage repair as well. That makes us the ideal contractor to restore homes that were damaged by flames as well as the water used to extinguish the fire.
Let our professionals assess the extent of your fire damage and then provide the restoration services necessary to ensure the safety of your friends and family. We are highly experienced in whole home remodeling, so whether the fire has affected the kitchen, living room, garage, bedroom, or any part of the home, we have the expertise in fire restoration and design skills to make it look better than it did before the fire.
For more information on our fire damage or flood damage restoration and repair services for Atlanta, Marietta, Alpharetta, Dunwoody, Roswell, Buckhead, Emory, and beyond, contact PDB  today.